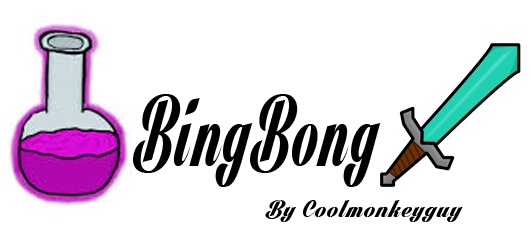 As the name states as you can see this plugin is very random.
Perfect plugin to give commands to your server's donators!!
Many new commands to come in future updates!
Join my multiplayer server and test some commands out!
Commands
/bingbong displays plugin info
/devil ? Fire Resistance potion
/redbull ? Speed 2 potion effect
/tigger ? Jump 2 potion effect
/miner ? Fast digging effect (Mining sure does make you hungry!)
/Demygod ? Not as op /god
/Aquaman ? Breath underwater!
/godarmor ? Spawn god armor!
/falseop ? false op someone! usage: /falseop [playername]
/boom ? creates a small explosion where you point.
/Milk ? Spawns a bucket of milk to remove potion effect.
/borat ? Just a cool video link
/morehealth ? more hearts
/spongelife ? absorption effect
/godpick ? spawns god diamond pickaxe
/godrod ? spawns god fishing rod
/briggs ? funny little command
Permission Nodes
redbull = bingbong.redbull
demygod = bingbong.demygod
aquaman = bingbong.aquaman
godarmor = bingbong.godarmor
falseop = bingbong.falseop
kforester = bingbong.kforester
khunter = bingong.khunter
spongelife = bingbong.spongelife
morehealth = bingbong.morehealth
godpick ? bingbong.godpick
To do
Add more fun commands (leave any ideas in the comments)
Bugs
Bugs
Commands don't work from console, also you can't give other players the effect via command.
Installation
Put the plugin in your plugin folder.
Adjust user permissions as desired.
Bing Bong Plugin 1.7.2 Download Links
http://www.dl2.9minecraft.net/index.php?act=dl&id=1389858207

http://www.dl5.9minecraft.net/index.php?act=dl&id=1389884507

Credits: coolmonkeyguy