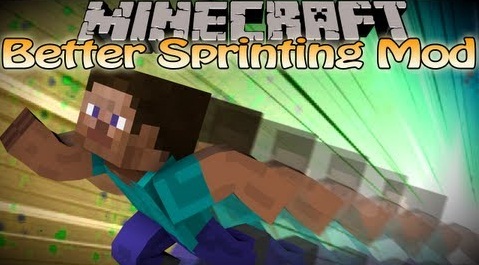 Better Sprinting Mod 1.12.2, as the name shows, is available to better sprinting system in Minecraft which always felt unfinished and unrefined by saving it and add a bunch of extra glitter. This mod allows you to bind sprinting to a key! Great thing about it is it's compatible with most mods that change options, like Optifine! But one annoying thing is incompatibility with mods that change behavior of player entity or Controls menu (adding new buttons using GameSettings will work, changing like, way Controls menu works/looks won't ? it'll break saving settings).
Features:
Sprint (hold) key which allows you to sprint
Sprint (toggle) key which when pressed, toggles between sprinting and walking
Sneak (toggle) key which when pressed, toggles sneaking
Sprint menu key to quickly access Better Sprinting settings ingame (default: O)
Option to turn on/off double tapping W
Flying boost when sprinting while flying in creative mode*
Option to enable or disable sprinting in all directions*
Option to disable mod?s functionalities (you can turn off the mod if a server doesn?t allow it)
Compatibility with many popular mods, such as Forge, Optifine and SPC
The mod can also be installed on a server, and the /bettersprinting admin command lets you enable special features or automatically disable the mod on client side when people join
Mod Showcase:
How to install:

Forge version
Download and install Minecraft Forge.
Download and install Player API.
Download the mod.
Go to %appdata%.
Go to .minecraft/mods folder.
Drag and drop the downloaded jar (zip) file into it.
If one does not exist you can create one.
Enjoy the mod.
non-Forge version
1. Go to versions folder

Windows: %APPDATA%/.minecraft/versions
Linux: /home/yourname/.minecraft/versions
Mac: ~/Library/Application Support/Minecraft/versions

2. Find a folder with version you want to install Better Sprinting to (I?ll use 1.7.x as an example in the tutorial)
3. Copy the folder and rename it to 1.7.x_sprint
4. Go inside the folder, and rename 1.7.x.jar and 1.7.x.json to 1.7.x_sprint.jar and 1.7.x_sprint.json
5. Open 1.7.x_sprint.jar in an archiving software (I suggest WinRAR)
6. Download the mod and copy all files into the .jar file
7. Delete folder META-INF from the .jar file
8. Open 1.7.x_sprint.json in any text editor
9. Find ?id?: ?1.7.x?, and change it to ?id?: ?1.7.x_sprint?
10. Run the new launcher, press Edit profile, select release 1.7.x_sprint version and Save profile. Then you?re ready to go!
Better Sprinting Mod 1.12.2 Download Links:
Older versions:
For 1.6.4
Vanilla: http://dl.niceminecraft.net/download.php?file=3591e7c352b56b84888f6020b2b0e580

Forge: http://dl.niceminecraft.net/download.php?file=8584118e7958b11c2f6d887019a0a305
For 1.7.2
Vanilla: http://dl.niceminecraft.net/download.php?file=84bdfd74f7c7fbe1dedf760609eb8fdd

Forge: http://dl.niceminecraft.net/download.php?file=f70ea2d5e3140327f932655b0ffc2b16
For 1.7.10
http://dl.niceminecraft.net/download.php?file=96dc9ecc2ea4d0267a96511ef14e8043
For 1.8
http://dl.niceminecraft.net/download.php?file=573b4469ef7885dcc298174181dd3d8c
For 1.8.8/1.8.9
http://dl.niceminecraft.net/download.php?file=102537b9fb101a4554d96d53a123d87e
For 1.9
http://dl.niceminecraft.net/download.php?file=633450ed3468a67b1e6b66c206ff1df6
For 1.9.4
http://dl.niceminecraft.net/download.php?file=7a5f994363e57e00d7e616d9724431a6
For 1.10.2
http://dl.niceminecraft.net/download.php?file=d9a5e93b6a37eabde44ae2cb6b84b711
For 1.11
For Minecraft 1.11.2
For Minecraft 1.12
For Minecraft 1.12.2
Credits: chylex