PvP Death messages
Customizable death messages for PvP deaths.

Allows use of Herochat channels for messages.
Records
Records stats for PvP and PvE kills
Stats include, wins,losses,ties, streak, maxstreak, ranking, maxranking
Examples:
/pvp
/pvp top [x] : show the top x highest rated players
/pvp vs <other player> [x records] : shows the last x records vs another player
/pvp vs <player1> <player2> [x records]: shows the records between player1 and player2
Leaderboard Signs
You can make leaderboard signs for PvP, PvE, or any other plugin that uses BattleTracker as a backend (like BattleArena). These signs will update every minute.
To make them, you make a sign where the first line is [ database name ] where database name is PvP,PvE, or if you have BattleArena, any of the databases from the configs, like Arena, Spleef.
The second line is what type of data will be shown. Examples: Rating, Wins,Kills,Losses,Deaths, Streak,MaxStreak,KDRatio,WLRatio,MaxRating
[PvP]
Rating
Once that is done, the sign is complete and it will automatically convert signs above or below it into Top Signs, (though it won't convert signs that start with the character '[').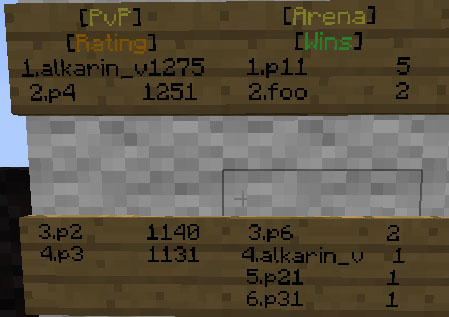 How to install Battle Tracker Plugin for Bukkit:
Download Battle Tracker Plugin
Place the .jar and any other files in your plugins directory.
Run the server and wait for it to fully load.
Type stop in your Minecraft server console to bring the server to a clean stop.
Run the server.
All done! Your plugin should be installed and ready to be used.
Changelogs:
v2.5.6
Features
Better item displays ( removed the underscore )
bow's can now be displayed separately in the messages.yml
Fixes
Fix for high sqlite loads

http://www.dl.9minecraft.net/index.php?act=dl&id=1379517349

http://www.dl2.9minecraft.net/index.php?act=dl&id=1379516872

Credits: alkarinv