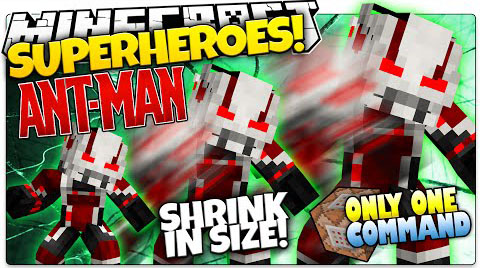 How to be a Superhero in Minecraft using Only One Command! Using this awesome one command creation, you can turn into Ant Man in minecraft and use Ant-Man's powers to make to shrink in size! The antman minecraft Command mod comes with the ability to summon in insect backup as well!
Command Block Showcase:
How to install:
The first, give yourself a command block, type :
/give @p minecraft:command_block
Once you have a command block, right click it to open it's GUI.
Now, you must copy the command from Ant-Man Command Block download link below.
Next, go back to your minecraft world, and paste the command you just copied into the command block. There are a few different keys that may be used to do this, depending on your keyboard. The most common ones are 'CTRL + V', 'COMMAND + V', or 'STRG + V'
Finally, press Done to exit the GUI, and run the command block with a Redstone block.
Command:
For 1.8
http://dl.niceminecraft.net/download.php?file=4cb8db72a217fc3d3df835d4c478da5c
Credits: The Minecraft Avatar