Description
Admin Toolbox is a plugin that it designed to make admins run certain commands. It provides a menu that you can change you gamemode, weather and many more features.
Features
Change Gamemode
Change weather
Portable Crafting Table
Portable Ender Chest
Portable Enchantment Table and more!
Commands and Permissions
| Command | Function | Permission |
| --- | --- | --- |
| /admintoolbox or /atb | Shows you information about the plugin | admintoolbox.use |
| /admintoolbox open or /atb open | Open the Admin Toolbox | admintoolbox.use |
| /admintoolbox wand or /atb wand | Give you the Admin Toolbox wand. | admintoolbox.use |
Screenshots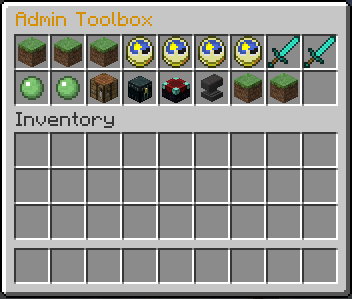 Known Bugs
Anvil don't open
Godmode doesn't work
Support
If you have any suggestions/question please post a comment below.
To-Do
Add chat messages
Add feed and health feature
Admin Toolbox Plugin 1.7.4 Download Links
http://www.dl2.9minecraft.net/index.php?act=dl&id=1387165551

http://www.dl5.9minecraft.net/index.php?act=dl&id=1387191016

Credits: Ati_444, Pocketkid2