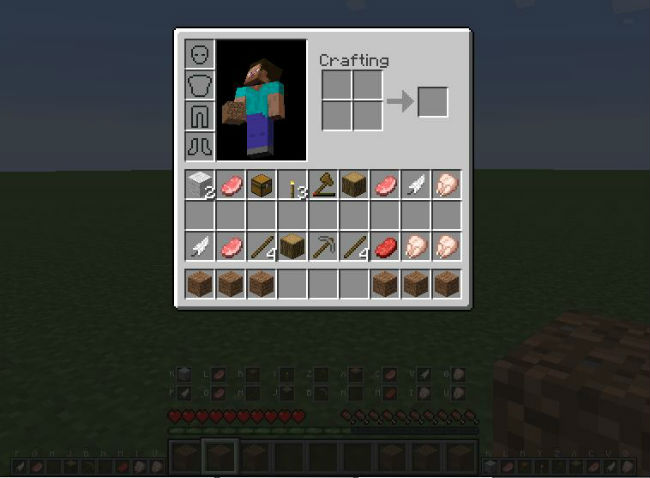 Actionbar-Hotbar Extension & Iinventory Sswapper Mod is known as an inventory GUI mod. This mod will extend the hotbar actionbar functionality through a lot of features added including:
 Add more slots (virtual) more space to enlarge the bar and inventory size
Plus dynamic key bindings macros combinations for swapping items
Implement the already seen swapper keys (cycle/cycling inventory slots/items right or left) and many new unique functions.
This is a top mod that we absolutely recommend trying out.
Features:
1) Cycling swapper keys left and right that cycle your actionbar/hotbar through the inventory
2) Up to 18 fully configurable  binding keys (you can bind a key to a slot of your inventory).
3) Ad-hoc GUI overlay for optimal configuration and usage (default: left alt)
4) It makes complex key combinations possible, like binding L. Control + 1 to your other sword (slot). Or even three keys combination, like binding Control+Alt+1 to your Iron Pickaxe! (combo key 1&2)
5) Lots of options in the config file, keys fully customizable both on cfg and vanilla controls menu
6) Super easy to use!
7) Fully compatible with any other mods.
8) Super light mod, does not affect performances by any means!
9) Works 100% on both single player and multiplayer (server needs to run the code though)

Author Notes:
I am back! This mod was born to be the upgrade of those other swapper mods, but grew larger with time. Let me know what you think of it, if you think I should change something or add something. Eventually I could even release the mod as open source and make a big tutorial on every aspect of it. I am coding on other mods too, one quite simple gonna release soon while the other is potentially quite big some sort of questology if you heard about.

Bugs:
None so far, please let me know if you find any and I'll fix them right away


Screenshots:
Installation
1)This require Forge, download last version i used the 1.7.2-10.12.1.1084 but other version should work
2)Just copy the jar in the ?mods? directory! That's it

Configuration
-The config file is auto generated the first time you run the mod, after that fell free to explore it and change whatever you need. If you have any question please ask I will answer as soon as possible! 
Download Actionbar-Hotbar Extension & Iinventory Sswapper Mod 1.7.2
For 1.7.2
http://dl.niceminecraft.net/download.php?file=b4d393a37a00752d417093c57dbcb87b
Author: Masterbit5