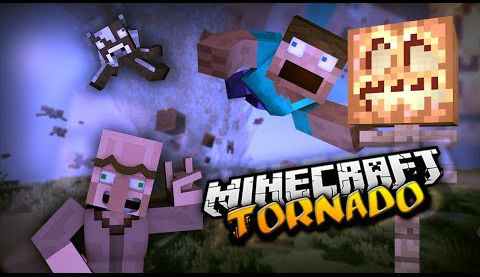 Weather & Tornadoes Mod 1.11.2/1.10.2 makes players feel more interesting with additional weather like tornado or some other weather. By attaching all these natural disasters, the game is not just about the normal premature creepers which can barely touch you in a fight but a bit more challenge.
Video:
Features:
Extended storm system with 5 stages of increasing intensity.
Naturally spawning water spouts, tornadoes, and hurricanes at the highpoint of storms.
The storms rip up the terrain and toss it around.
More Information:
Waves Information
New console command: /waveheight #, sets the base wave height to #, use for maximizing the joy of surfing
waveRenderRange = how much of the waves to render (for performance tweaking)
Naturally spawning tornadoes, with detection blocks, recipes are:
Tornado Sensor:

Tornado Siren:

How to install:

Download and install Minecraft Forge installer
Download Weather & Tornadoes Mod
Extract the zip. In the zip, copy the contents of the folder into your %appdata%.minecraft folder
Run the game, and let them spawn naturally or create the Tornado item from the top recipe in the picture inside zip file
Extra configuration is possible, mod_EntMover.cfg inside %appdata%.minecraftconfig
Changelogs:
v1.58
Fixed client side wind not working / debug info crashing
Weather & Tornadoes Mod 1.11.2/1.10.2 Download Links:
Older versions:

For 1.5.2
http://dl.niceminecraft.net/download.php?file=f8850f1dcfac309b0ebd4fb7312cd5bd
For 1.6.2
http://dl.niceminecraft.net/download.php?file=3c9ac092ec07c1fa3aac2c6369546f80
For 1.6.4
http://dl.niceminecraft.net/download.php?file=4066488568b4d8a07ad67e0d19d6d098
For 1.7.10/1.7.2
For Minecraft 1.10.2
(Coming soon)
For Minecraft 1.11.2
(Coming soon)
Credits: Corosus