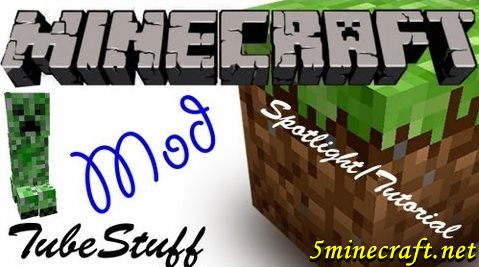 TubeStuff Mod 1.12.2 focuses on implementing some useful blocks to Minecraft. Through this mod you might get some blocks like buffers which works as chests with hoppers attached, except that the fuller they are the more quickly they pass items along on their destined path.
Additionally, there is a black hole chest allowing you to store items with infinite space. Although this mod doesn't require RedPower or BuildCraft, it will work moe effective with them. Also, there's no recipe for the buffer if you have neither of them.
Blocks:
Video:
Installation TubeStuff Mod
Requires Forge and Immibis Core.
Download this Mod.
Put the downloaded jar file in your mods folder.
Download TubeStuff Mod 1.12.2
For 1.7.10
http://dl.niceminecraft.net/download.php?file=b275f7294542c0d6c430d34eafa54d50
For 1.7.2
http://dl.niceminecraft.net/download.php?file=6d569942a6ece90f6bd2528588f830b3
For 1.6.4
http://dl.niceminecraft.net/download.php?file=9c2cfd3803e7f6b04efb831f3efb02ad
For1.6.2
http://dl.niceminecraft.net/download.php?file=c4b0b32ff0272e63c864b90662528186
For 1.5.2
http://dl.niceminecraft.net/download.php?file=57acc6c629f1e33e849abe99493703ff
Credits:
immibis (me) ? coding and textures
FuzzyPurp ? beta testing
Elysium ? testing of 1.1/48.0.x
BrickedKeyboard ? retrievulator idea
Olaf464 ? incinerator texture
Feronzed ? retrievulator textur