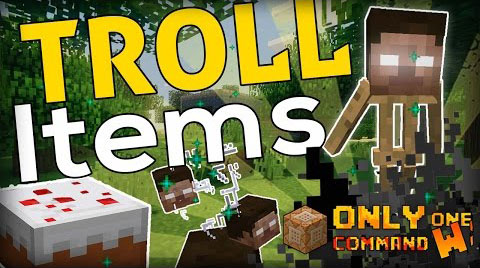 The ultimate way to troll your friends in vanilla minecraft without any mods. Troll Items Command Block adds 11 troll items which will blow up you're friends' minds.
Command Block Showcase:
How to install:
The first, give yourself a command block, type :


/give @p minecraft:command_block

Once you have a command block, right click it to open it's GUI.
Now, you must copy the command from Troll Items Command Block download link below.
Next, go back to your minecraft world, and paste the command you just copied into the command block. There are a few different keys that may be used to do this, depending on your keyboard. The most common ones are 'CTRL + V', 'COMMAND + V', or 'STRG + V'
Finally, press Done to exit the GUI, and run the command block with a Redstone block.
Troll Items Command:
For Minecraft 1.9.x
http://dl.niceminecraft.net/download.php?file=3c0c931de1dc6f2df98c279cb2414454
Credits: Cimap