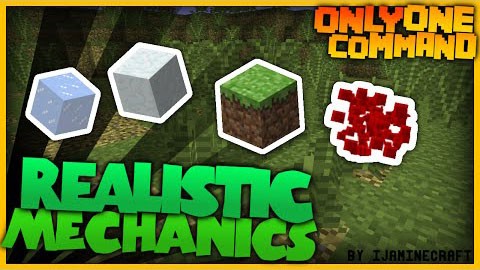 This little command adds some realistic mechanics to Minecraft, such as paths, being cold or blood loss! It's not intended to be a big command as my normal creations. It's just a little, not very laggy command, that you might want to use in your survival-world.
Command Block Showcase:
How to install:
The first, give yourself a command block, type :
/give @p minecraft:command_block
Once you have a command block, right click it to open it's GUI.
Now, you must copy the command from Realistic Mechanics Command Block download link below.
Next, go back to your minecraft world, and paste the command you just copied into the command block. There are a few different keys that may be used to do this, depending on your keyboard. The most common ones are 'CTRL + V', 'COMMAND + V', or 'STRG + V'
Finally, press Done to exit the GUI, and run the command block with a Redstone block.
Command:
For 1.8
http://dl.niceminecraft.net/download.php?file=69fc4468aa8b114a75ccbd51e6724043
Credits: IJAMinecraft