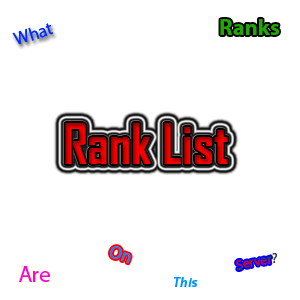 This plugin is for Server owners that keep getting asked the very familiar question "What are the ranks on this server?"
This plugin offers a simple solution:
By telling the user that if they use the command /ranklist they will get a list of the ranks currently on the server without having to go to a website to find out the ranks like most servers do
Please note from version RankList V0.3+ the plugin folder has been renamed to "RankList"
so if you are upgrading from an earlier version you may need to re-config your config.yml or copy the one from the old folder to the new one and reload **
---
Commands
/ranklist ? lists the current ranks available on the server
/ranklist reload ? reloads the config
/rnklst or /ranks can also be used as an abbreviated command for this plugin
---
Permissions
ranklist.reload ? allows a player to reload the plugin config
---
To do
Add plugin.yml to customise text when the command is run ? 100% Complete
Add reload command ? 100% Complete
add more features such as in depth permissions that are available for each group ? 25% Complete!
add more ranks to the plugin ? 100% Complete!
add plugin update checker ? 100% Complete!
---
Please NOTE that this plugin is compiled with JRE 7
---

---
Changes
V0.1
First build of plugin
simple one command implemented for now
V0.2
added config file to add/change rank names and server name displayed when command executed
updated to 1.4.6
V0.3
Added plugin metrics
Changed folder name for config to "RankList" instead of "RankList1?
fixed minor bug on version number
V0.3.1
V0.4
V0.4.1
V0.4.2 18/04/2013
updated for 1.5.1
improved source code
V0.4.3 04/05/2013
updated for 1.5.2
improved source code yet again
V0.5 26/05/2013
Added reload command.
Added abbreviated command "rnklst".
V0.5.1 27/05/2013
Added support for up to 20 Ranks (By request).
Added some formatting, number for each rank.
V0.5.2 03/07/2013
V0.5.3 11/07/2013
V0.6 31/08/2013
Redid project structure.
Added update checker.
Changed the way the information is displayed to user when ranklist command is used.
This update has changes to CONFIG please check the download notes for instructions.
V0.7 16/10/2013
Added support for unlimited ranks.
This update has changes to CONFIG please delete / backup your previous config, then delete so the new one can be created.
V0.7.1 CURRENT 16/10/2013
Fixed small bug when player joins.
---
See this plugin in action at: mc.teozcommunity.com
Any feedback/ideas regarding this plugin would be appreciated
---
Plugin not working? Please pass the contents of your yml file using the parser link on the next line before asking for help!
---
NOTE: This plugin does not manage the permission ranks/groups it only lists them, sorry for the confusion! use group manager if you would like a plugin to do this, thanks, please do not ask about this or the comment will be removed
Rank List Plugin 1.7.2 Download Links
http://www.dl2.9minecraft.net/index.php?act=dl&id=1386074653

http://www.dl5.9minecraft.net/index.php?act=dl&id=1386100106

Credits: teozfrank