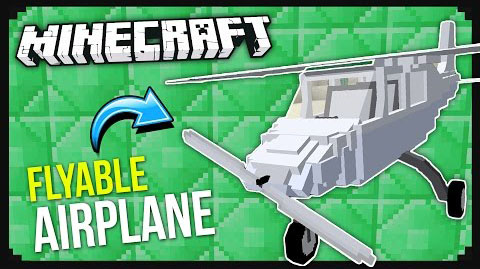 You are now able to craft your own flyable airplane. This airplane is able to fly all over your Minecraft world. All you have to do is combine a nether star and an Eltrya together then you can fly your very own Airplane. The controls are pretty simple, just taking off requires setting up a runway for the plane.
Command Block Showcases:
How to install:
The first, give yourself a command block, type :
/give @p minecraft:command_block
Once you have a command block, right click it to open it's GUI.
Now, you must copy the command from Planes Command Block download link below.
Next, go back to your minecraft world, and paste the command you just copied into the command block. There are a few different keys that may be used to do this, depending on your keyboard. The most common ones are 'CTRL + V', 'COMMAND + V', or 'STRG + V'
Finally, press Done to exit the GUI, and run the command block with a Redstone block.
Command:
For 1.9
Planes Command Block
http://dl.niceminecraft.net/download.php?file=251b955e44fd8ef211f6d963138e01e8
Planes Resource Pack
http://dl.niceminecraft.net/download.php?file=a988d0902e12331f21e0fc33f7b123fb
Credits: McMakistein