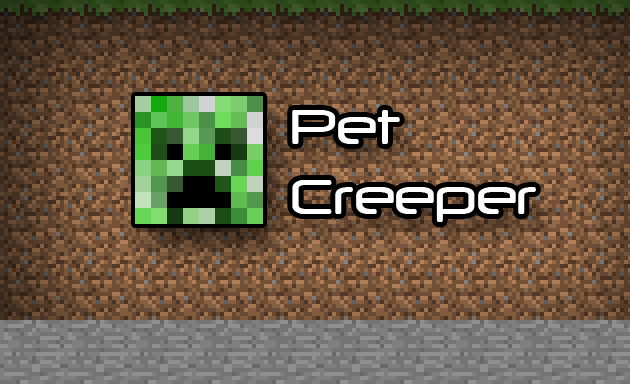 About PetCreeper
This is a continuation of PetCreeper originally by mathewv. PetCreeper allows players to tame creepers and other mobs that are not normally tamed.

Features
Tame most mobs using configurable bait.
Compatible with mcMMO (Taming XP)
Ride most mobs using a saddle.
Name your pet.
Supports colored name tags.
Full permissions support.
Optional ops override permissions.
Spawn any pet.
Colorize your sheep.
Change your wolf's collar color.
Pet modes:

Passive ? The default pet mode. Passive pets will just follow you around and are completely harmless.
Defensive ? The defensive pets will attack hostile monsters within a certain radius of the player.
Aggressive ? The aggressive pets will attack everything that moves.

Disable/enable pet following by right clicking your pet.
Screenshots
Riding a WitherBoss
Riding a Bat
Riding a Villager
Taming an EnderDragon
How to install
Just drop the jar file in your plugins directory and restart your server.
Configure permissions.
If you do not want to use permissions then set "OpsBypassPerms: true" or "DisablePermissions: true" in the config.yml.
Commands
Note: When running a command you must use the pet's ID number, not name. Example: Teleport pet #1 to you: /pet 1
/petlist ? Check if you have a pet. The petlist command will provide the id number for each pet.
/pet [id|all] ? Teleport your pet to you.
/petcolor [id] [ color ] ? Colorize sheep and wolf collars.
/petfree [id|all] ? Let your pet go free.
/petname [id] [name|random] ? Name your pet.
/petgive [id] [player] ? Give pet away
/petkill [id|all] ? Kill your pet.
/petmode [id] [a|d|p] ? Change your pet to aggressive, defensive or passive (default).
/petage [id] [baby|adult|lock|unlock] ? Change your pet's age. Lock or unlock age.
/petreload ? Reload config.yml
/petspawn [ pet type ] [count]
Permissions
Full Permissions List
petcreeper.* ? All permissions.
petcreeper.age ? Allows players to use the /petage command.
petcreeper.color ? Allows players to use /petcolor.
petcreeper.control ? Punch the air to control the pet movement while riding.
petcreeper.pet ? Allows players to use the /pet command.
petcreeper.give ? Allows players to use /petgive.
petcreeper.kill ? Allows players to use the /petkill command.
petcreeper.mode ? Allows players to use /petmode.
petcreeper.reload ? Allows players to use /petreload.
petcreeper.tame.All
petcreeper.tame.(Creature Name)
petcreeper.ride.All
petcreeper.ride.(Creature Name)
petcreeper.spawn.All
petcreeper.spawn.(Creature Name)
Permissions Bukkit Example
If you are using PermissionsBukkit then this sample config should work for you.
      petcreeper.pet: true
      petcreeper.give: true
      petcreeper.mode: true
      petcreeper.control: true
      petcreeper.tame.All: true
      petcreeper.ride.All: true
      petcreeper.age: true
Known Issues
Can't ride dragons
Projectile pet mobs (skeletons, blazes, ghasts etc?) can't attack
Pet control doesn't work correctly
PetCreeper Plugin 1.6.4 Download Links
http://www.dl2.9minecraft.net/index.php?act=dl&id=1385481867

http://www.dl5.9minecraft.net/index.php?act=dl&id=1385507316

Credits: Mindcraftson, cnaude