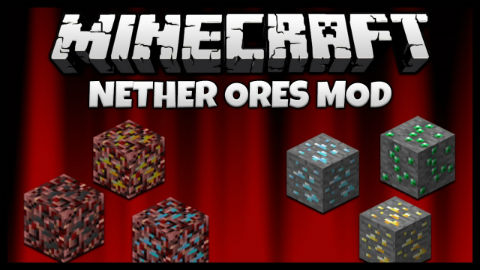 Nether Ores Mod is made by Powercrystals and it aims to introduces many overworld ores into the nether. Actually, the Nether world is quite a really cool place because it will generate some valuable ores for players to collect like coal, diamond, gold, iron, lapis, redstone, copper, tin and so on.
Note that after mining these ores, you need to smelt them into the drop you'd get from its surface form by cooking it in a furnace. Nether Iron gets you an iron ore block, Nether Redstone gets you redstone dust and so on. Putting them into an IC2 macerator yields twice the reward
The most important thing you have to bear in mind is that the local inhabitants are not friendly to those who steal their resources; and ages of being exposed to the hostile environment of the nether has left these ores somewhat unstable as well.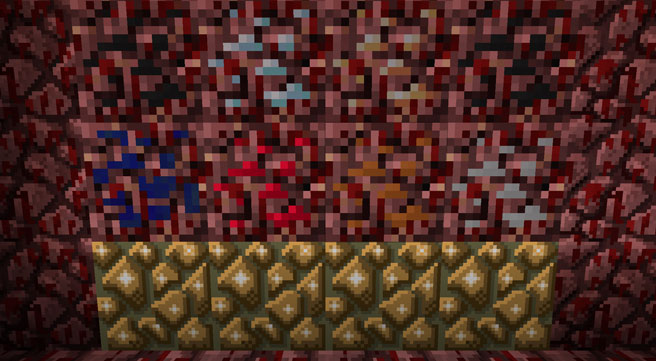 How to install:

Download and install Minecraft Forge.
Install PowerCrystals Core (For Minecraft 1.6.4 or older).
Install CoFH Core (For Minecraft 1.7.10 and newer).
Download the mod.
Put downloaded archive into .minecraft/mods/ folder. Thats it!
Nether Ores Mod 1.11.2/1.10.2 Download Links:
Older versions:
For 1.5.2
For 1.6.2/1.6.4
http://www.dl.9minecraft.net/index.php?act=dl&id=1381507975

http://www.dl2.9minecraft.net/index.php?act=dl&id=1381483366
For 1.7.10
http://www.dl6.9minecraft.net/index.php?act=dl&id=1406775408

http://www.dl2.9minecraft.net/index.php?act=dl&id=1406775532
For Minecraft 1.10.2
(Not updated yet)
For Minecraft 1.11.2
(Not updated yet)
Credits: AtomicStryker