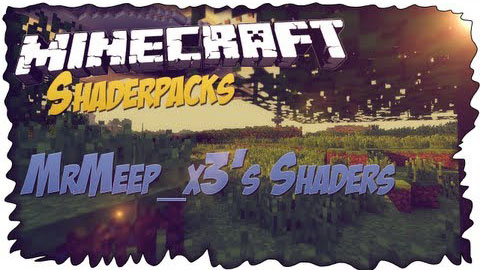 MrMeep_x3's Shaders embellish the World of Minecraft with yellows, oranges, reds and many more colors that previously you have never had the chance to see in Minecraft.
Screenshots:
Ultra – Showing the updated sun effects:
Ultra DoF – Showing the Depth of Field effect:
Ultra+ – Showing the enabled SSAO and the stronger Sunlight
MrMeep_x3's Shaders Review:
How to install:
Download and install Minecraft Forge.
Download and install Optifine HD.
Download and install GLSL Shaders.
Download MrMeep_x3's Shaders.
Extract file.
Open Minecraft and go to "Options".
Click on Shaders and select "Open shaderpacks folder".
Drag MrMeep_x3's Shaders folder into that.
Select MrMeep_x3's Shaders and select "Done".
Enjoy!
MrMeep_x3's Shaders Download Links:
For All Minecraft Versions:
MrMeep_x3's Shaders Ultra
http://dl.niceminecraft.net/download.php?file=52844c363948ba002368a9e087a98e03
MrMeep_x3's Shaders Ultra Plus
http://dl.niceminecraft.net/download.php?file=9cc8323d10d3a288673160aaefcf440a
MrMeep_x3's Shaders Ultra DoF
http://dl.niceminecraft.net/download.php?file=2c530fdcb0b109dace566c32e23b63f1
MrMeep_x3's Shaders Ultra Motionblur
http://dl.niceminecraft.net/download.php?file=52d37111111b0eb453c11be1f8338e14
MrMeep_x3's Shaders Medium
http://dl.niceminecraft.net/download.php?file=dde29ea7fed41ee6a5d2bcf229b0c9b0
MrMeep_x3's Shaders Lite
http://dl.niceminecraft.net/download.php?file=71cd8df3cb6a8ac3437ab3ef2d673320
Credits: MrMeep_x3