Well, then you've probably encountered a fair amount of key binding conflicts and have been overwhelmed with the hassles of finding which key best suits the mod functions.

Look no further! Yes, you. No, don't look that way? look down below.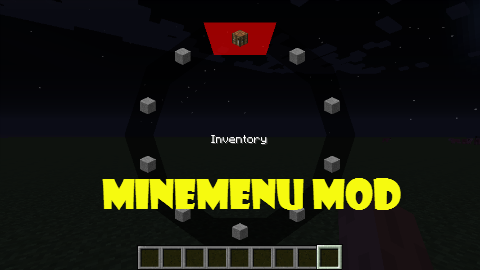 With this fancy new radial menu, you put the power of 10 keys? that's right, 10! Into the comfort of only one. MineMenu supports key bindings, commands, and creative functions to make your life easier. But wait, there's more! If you download now (or any time) we're offering immediate access to new feature as they arrive.

Leave key conflicts in the past and make the switch to radial quick-access keys by downloading MineMenu.
MineMenu Mod 1.12.2 Download Links:
For 1.7.10/1.7.2
http://dl.niceminecraft.net/download.php?file=363e392872855aaf1a477605bf0873c8
For 1.8.9
http://dl.niceminecraft.net/download.php?file=a99593f2938749b643cf6f36c256c8fb
For 1.9
http://dl.niceminecraft.net/download.php?file=6141e173fde944631aaa8952b4a50cae
For 1.9.4
http://dl.niceminecraft.net/download.php?file=7b4a86e53e8913b314c92502467023d0
For 1.10.2
http://dl.niceminecraft.net/download.php?file=df8ac2882d685602277e17ed24289d0f
For 1.11.2/1.11
For Minecraft 1.12
For Minecraft 1.12.2, 1.12.1, 1.12
Author: dmillerw