What is MineFactory Reloaded Mod 1.12.2?
MineFactory Reloaded Mod is a sequel of power crystal's MineFactory Reloaded, which is also a continuation of MineFactory.
Build up a completely automated farm where you don't need to work except collecting the harvests and reloading the planter. Even the solutions are not really complex or include unwieldy water/piston.
Automatically farm plants and animals, as well some new rail tracks!
Milk cows to death or otherwise run livestock farms when you need those resources. Oh, last thing you need is conveyor belts? Available!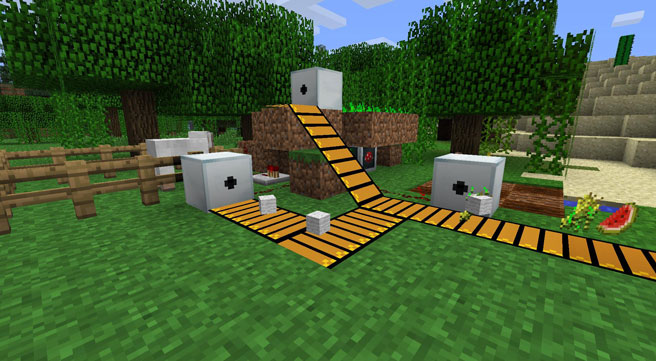 MineFactory Reloaded Mod Recipes:
MFR aims to automate a number of tasks that previously would be difficult, boring, or work-intensive. It also provides some additional support blocks and machines.
Basics
Plant Farming
Animal/Mob Farming
Item Transport
Processing
Power
Decorative
RedNet
Rails
How to install MineFactory Reloaded Mod:

Download and install Minecraft Forge.
Install PowerCrystals Core (For Minecraft 1.6.4 or older).
Install CoFH Core (For Minecraft 1.7.10 and newer).
Download the mod.
Put downloaded archive into .minecraft/mods/ folder. Thats it!
MineFactory Reloaded Mod 1.12.2 Download Links:
Older versions:
For 1.5.2
http://dl.niceminecraft.net/download.php?file=e89e1580e105998d6709a546f3cf3f1e
For 1.6.4/1.6.2
http://dl.niceminecraft.net/download.php?file=d633aee6545f97b233b638629e7032a3
For 1.7.10
http://dl.niceminecraft.net/download.php?file=bce24e351b418bd583ea4dae627e393d
For Minecraft 1.10.2
Credits: AtomicStryker