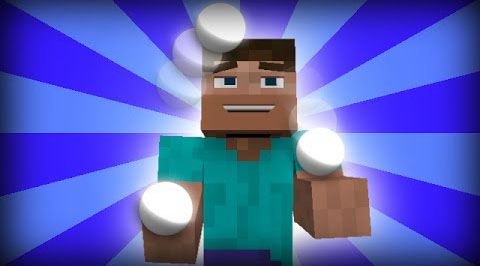 By installing this little machine in your world, you will be able to prove yourself as a juggler. Pick up the 3 balls and try to keep them in the air as long as possible. Watch the video for instructions and a short explanation.
Command Block Showcases:
How to install:
The first, give yourself a command block, type :
/give @p minecraft:command_block
Once you have a command block, right click it to open it's GUI.
Now, you must copy the command from Juggling Command Block download link below.
Next, go back to your minecraft world, and paste the command you just copied into the command block. There are a few different keys that may be used to do this, depending on your keyboard. The most common ones are 'CTRL + V', 'COMMAND + V', or 'STRG + V'
Finally, press Done to exit the GUI, and run the command block with a Redstone block.
Command:
For 1.9
http://dl.niceminecraft.net/download.php?file=5afe3f33a00288d207c79b8dbbf94982
Resource Pack:
Credits: McMakistein