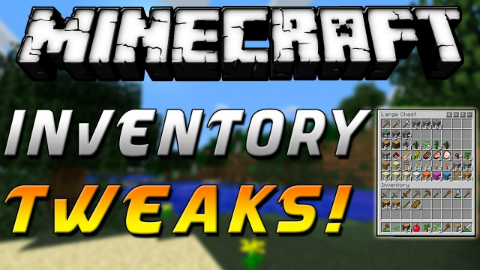 Inventory Tweaks Mod 1.12.2 is designed to help player manage their inventory. The mod allows you to sort the various things like ores, blocks or other collected items in your mess inventory. Thanks to this mod, your sorting inventory time will not take so much time as before and you can make it easier through a single click or keystroke.
In addition, it automatically loads more items into player's hotkey bar when the space becomes available, too. For instance, you need to customize entirely the way your inventory is sorted, there will be clever configuration files for you to do that. That's why this can save players a lot of time in Minecraft.
Features:
It automatically replaces your tools as they break, and item stacks once emptied
It sorts your inventory and your chests in a single click/keystroke
It provides lots of powerful shortcuts to move items around
It allows you to customize entirely the way your inventory is sorted, thanks to clever configuration files
More information: Go to Inventory Tweaks official website
Video:

How to install Inventory Tweaks Mod 1.12.2:
Download and install Minecraft Forge
Download the mod
Go to %appdata%
Go to .minecraft/mods folder
Drag and drop the downloaded jar (zip) file into it
If one does not exist you can create one
Enjoy the mod
Changelogs:
v1.57
Updated to MC 1.7.2/1.7.10 (With many internal changes to support the update)
Use ID names, instead on numerical IDs for blocks/items in config files.
Messages during the loading process will now display as chat messages the first time you load a game.
Rule-based sorting should no longer freeze the game in specific situations.
Using IDs in custom rules may or may not work due to the new ID handling.
Inventory Tweaks Mod 1.12.2 Download Links:
Older version:
For 1.5.2
http://dl.niceminecraft.net/download.php?file=6edea5b172a2d31ca6e4c5985c188706
For 1.6.2
http://dl.niceminecraft.net/download.php?file=d5e2bf88d4d644a1bc22ad3f8df81567
For 1.6.4
http://dl.niceminecraft.net/download.php?file=9c177874d824ce06fb2a1637de60548f
For 1.7.2
http://dl.niceminecraft.net/download.php?file=24e765cd64d52daab2cea96266486737
For 1.7.10
http://dl.niceminecraft.net/download.php?file=027a061556bc5a0113c686c877d4eda1
For 1.8
http://dl.niceminecraft.net/download.php?file=17c5c3bf73839c33c04f30ee54e2ed9e
For 1.8.9
http://dl.niceminecraft.net/download.php?file=aa4a4943217e2b44f2f02ec84c5f51de
For 1.9
http://dl.niceminecraft.net/download.php?file=281969a77641a3f55460b40bb30aa15e
For 1.9.4
http://dl.niceminecraft.net/download.php?file=3d7a88656ed4c882a6e9132e66f0d9e2
For 1.10.2
http://dl.niceminecraft.net/download.php?file=e49c64a9be4f7a1a37f55c81c227d1fd
For 1.11
For 1.11.2
For Minecraft 1.12
For Minecraft 1.12.1
For Minecraft 1.12.2
Credits: jimeowan