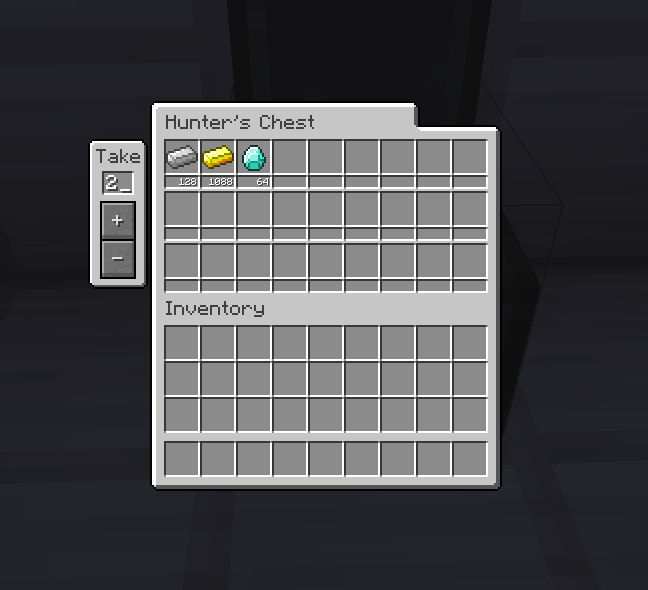 Hunter's Chest Mod implements some chests which surely benefits you in your journey in the Minecraft world. The highlight feature which makes these chests standing out from others is the fact that it can hold various amount of stacks for an item. But keep in mind that the chests could be still be balanced through the many systems.
The Chests:

Recipe
Details:
A simple one block chest with the same amount of slots like a large chest
A stepping stone for the next chests
Details:
No limit on the amount of stacks a slot can hold
Upgraded to stone material(need pickaxe to pickup)
Details:
Adds another slot row
Shift-Click to put the items in your inventory automatically according to the amount you set.
Type to precisely get the amount you like.
Downsides for unlimited stacks to balance the game:
Less slots
Extensive recipes

(

Warning

)By destroying the block, while having items inside of it, the chest will lose the connection to the void, and the items will only drop one stack of each item, and sometimes they might disappear completely

Hard to organize(If you are planning to move items to the other slot, after you take the items, you sometimes need to 

close the chest and open it again

 to reset the slot connections to the items)
Installation:
Put zip to the mod folder
Download Hunter's Chest Mod 1.6.4
For 1.6.4
http://dl.niceminecraft.net/download.php?file=5b265f93d8d71850d3a426422695496e
Author: end_V