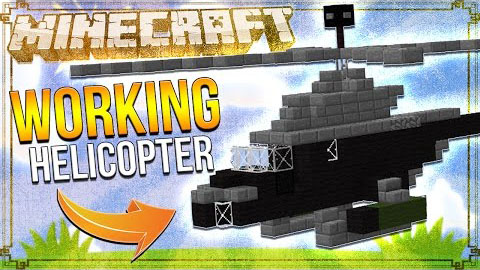 You are now able to craft your own flyable helicopter. This helicopter is able to fly all over your Minecraft world. All you have to do is trade some diamonds and emeralds with the local mechanic then you can fly your very own Helicopter.
Command Block Showcases:
Helicopter Resource Pack:
http://dl.niceminecraft.net/download.php?file=d8ec24f6b612e8cdab7c05c929816026
How to install:
The first, give yourself a command block, type :
/give @p minecraft:command_block
Once you have a command block, right click it to open it's GUI.
Now, you must copy the command from Helicopter Command Block download link below.
Next, go back to your minecraft world, and paste the command you just copied into the command block. There are a few different keys that may be used to do this, depending on your keyboard. The most common ones are 'CTRL + V', 'COMMAND + V', or 'STRG + V'
Finally, press Done to exit the GUI, and run the command block with a Redstone block.
Command:
For 1.9
http://dl.niceminecraft.net/download.php?file=b46993ff089bb1769621d4317e849f47
Credits: McMakistein