Health Bars Mod adds smart health bars to entities. They don't render over blocks, so using them as X-Ray is impossible.
For simple usage Health Bars requires no type of configuration, however you can do the following:
The bars can be disabled by pressing 'B' (by default, configurable in Controls menu).
The bars have different stances depending on the entity's status:
Blue

: Entity is neutral or friendly.

Red

: Entity is aggro towards the player.

Green

: Entity is poisoned.
There are limitations on when the bar will be rendered:
The Entity can't be at a distance of over 12 blocks (customize-able)
The Entity can't have over 75 hearts of health (customize-able)
The Entity can't be blacklisted (Read more in the configuration section).
SMP Info: The mod will work in SMP if the server host / lan game host has the mod installed, if they don't, the bars will always display the same value.
Screenshots: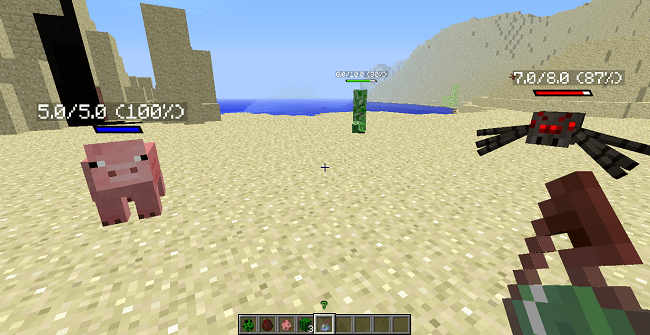 The Configuration file for this mod is located in /.minecraft/vazkii/config/healthbars.cfg, it will only be there after you installed the mod(and Forge + Vazcore) and ran the game at least once.
Requirement:
Installation:
Installing Forge:
Open your Minecraft launcher.
Open the "Options" menu near the "login" button
Use the link in the Options menu to open the .minecraft directory
Navigate to the bin folder.
Open minecraft.jar and the Forge version you downloaded with appropriate archive software. (i.e WinRAR, 7-Zip)
Drag all contents from Forge into the minecraft.jar
Delete the META-INF folder from the minecraft.jar
Close both minecraft.jar and Forge download.
Go back to the .minecraft directory.
Installing VazCore:
While inside the .minecraft directory, create a new folder titled "mods", assuming there isn't one already.
Drag and drop the entire VazCore .zip file into the mods folder. (Do not extract the contents of the .zip)
Installing Health Bars Mod:

Drag and drop Health Bars Mod.zip file into the mods folder. (Do not extract the contents of the .zip
Download Links:
http://dl.niceminecraft.net/download.php?file=beec103c1538186679163629a2b0d408
Credits: Vazkii