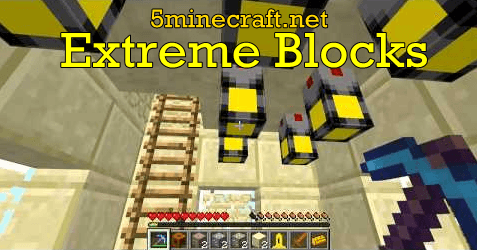 Extreme Blocks Mod 1.12.2 is a functional mod that implements a variety of new blocks, tools, items, mobs and ores to Minecraft. What makes these things standing out from others is the fact that they obtain many special features such as blocks with new designs, ores with powerful strength or the ores you can use to generate in the Nether.
Once you install it, you surely can't help stopping using it.
Pro's
Amazing new Blocks,Tools,Items, Mobs and Ores!

Very, VERY, VERY, VERY useful in Survival for the new tools and also creative for the new designs of the blocks!

Adds Ores to generate in the Nether!

Adds ores that are better that DIAMOND, stronger that GOLD, and easier to find than IRON!

This mod is great for any kind of player; Hardcore, Peaceful, Creative or Survival!

Adds the Command Block into the Mod's Creative Tab!

Also adds a lot of new swords/weapons!
How to Install Extreme Blocks Mod
Download Forge
Make Sure you have the correct version of Minecraft!
Open the Minecraft file to the point you can see Forge's ?mods? folder
Without unzipping, or extracting, put the whole ?.jar? file into the mods folder
Load up Minecraft and Enjoy!
You can try this Mod with other mods but make sure they are compatible.If you find any mods that are compatible to this mod, feel free to comment it below!
Download Extreme Blocks Mod 1.12.2
For 1.7.10
http://dl.niceminecraft.net/download.php?file=fc93fb9d31562ab9a256d17dcf1b259a
For 1.7.2
http://dl.niceminecraft.net/download.php?file=08e057a6b6b49a53caf4b4a3cf7ff358
Author: Fir3will