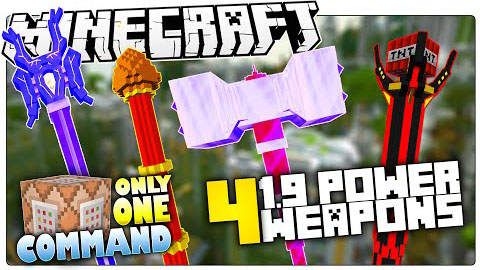 These crazy 3D Weapons can be added to your Minecraft 1.9 world using only one command block. This minecraft custom command by makistein adds 4 new weapons in minecraft that all have special powers. All you need is a resourcepack and the command that you will both find out below.
Command Block Showcases:
How to install:
The first, give yourself a command block, type :
/give @p minecraft:command_block
Once you have a command block, right click it to open it's GUI.
Now, you must copy the command from Epic 3D Weapons Command Block download link below.
Next, go back to your minecraft world, and paste the command you just copied into the command block. There are a few different keys that may be used to do this, depending on your keyboard. The most common ones are 'CTRL + V', 'COMMAND + V', or 'STRG + V'
Finally, press Done to exit the GUI, and run the command block with a Redstone block.
Resource Pack:
Epic 3D Weapons Resource Pack:
http://dl.niceminecraft.net/download.php?file=99a424cf353d7d2e26847da3e2ba3422
Command:
For 1.9
http://dl.niceminecraft.net/download.php?file=822a6c50d2433e5109cdffc2eb25bb8f
Credits: McMakistein