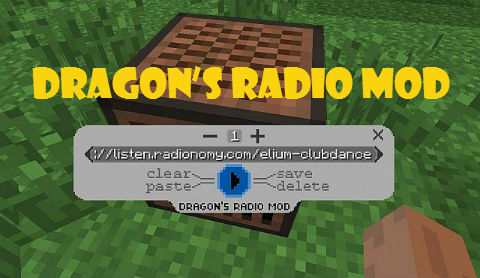 Dragon's Radio Mod 1.12.2 solely gives players a single block to Minecraft world called a radio. This radio is not simply a prerecorded sound player or dummy, as it plays actual radio streams from the internet. Below are some outstanding features of this mod which surely interest you:
First, this radio has 9 different buttons which corresponds to Internet radio link. Through this, you can change stations whenever you want by using these. Also, it allows you to play the stream, turn volume up and down add stream to playlist, delete it, browse the playlist, clear the stream text-box, paste into it and exit the player.
Moreover, the audio stream is compatible with client sided. As a result, there is not any lag to server anymore, and client side code is effective enough to play on any configuration and mod-pack without any troubles.
If you are looking for more music in Minecraft, this mod is the perfect choice for you.
Download Dragon's Radio Mod 1.12.2
For 1.7.10
http://dl.mod-minecraft.net/download.php?file=5a253c886f7e961d1ec410b62f6c9957
For 1.6.4
http://dl.mod-minecraft.net/download.php?file=6313375bdafc0ec13826fe20eddb2bd7

Old version

http://dl.mod-minecraft.net/download.php?file=98a7a367ed7ccc5e58cc0fa374dccd58
Author: DragonbornSR