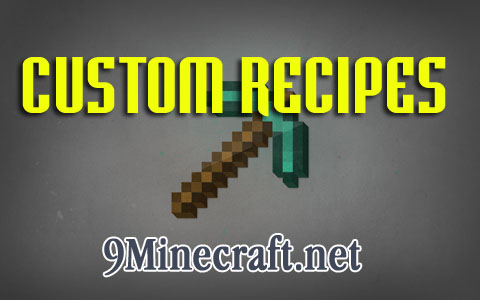 Custom Recipes Mod allows you to create your own recipes for Minecraft. Fee free to improvise with culinary art.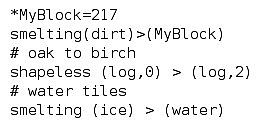 Features:
This mod lets you create new recipes for Minecraft.
You don't have to download "crafting mods" any more!
All recipes are saved in Recipe Files, which can be edited by notepad.
This mod is also useful for debugging your mods.
How to get Recipe Files:
Recipe files can be found in:
Mods on this site (they tell you to download this mod)
After you download your recipe files, place them into this folder: .minecraft / mods / customrecipes
Recipe Files:
Errors in your recipes are written into .minecraft/ CustomRecipes.log.
How to install Custom Recipes Mod for Minecraft:

Download and install Minecraft Forge
Run MC to create needed folders
Place this ZIP file into .minecraft/mods
Run MC again
Read mods/customrecipes/dictionary.txt
Enjoy!
Download Links:
For 1.8.8
http://dl.niceminecraft.net/download.php?file=d7618c92f9c65ef5ac8afe3eeb42f7a0
For 1.7.10
http://dl.niceminecraft.net/download.php?file=b5098899cc2787366be20084c930bb4f
For 1.6.4
http://dl.niceminecraft.net/download.php?file=53c14eb1b7c870ea485d603a527c8cea
For 1.6.2
http://dl.niceminecraft.net/download.php?file=6f60b4b5153d16c44dc5826ca9952040
For 1.5.2
http://dl.niceminecraft.net/download.php?file=7ed2b495049b57876467e5b4ba622c45
Credits: MightyPork, TheBoo99