Thanks for all the positive responses guys! If you have any input or feedback about the plugin, feel free to give me a shout in comments or PM me
Chat Emotions is a simple plugin that lets you /slap, /hug, or /highfive others.
Check out my PvP server . It has the plugin on it. 192.187.122.18:25532
1.3 features the ability to customize the hashtag.
1.3.3 will feature /love, /hate and have /hug <player> fixed.
1.3.5 has been completed. It includes /emotions, which tells you about the plugin, and /emotions reload.
1.3.8 so far features /spank, /spit and /emotions version.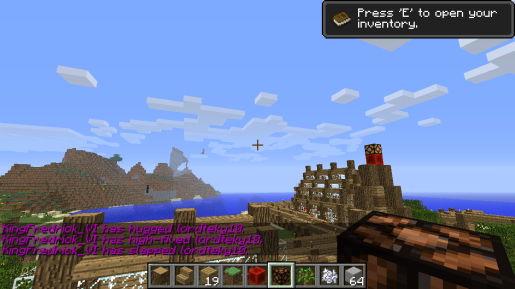 1.1
Now features if you /hug, /highfive, or /slap yourself, it says you slapped yourself, #ForeverAlone. (I changed it to say 'themself' instead of 'himself'.)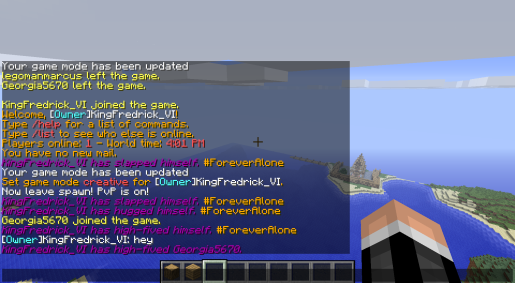 1.2
Now features /gb(goodbye), /wel(welcome), /slowclap, /thank, /rip, /wave and /shoutout!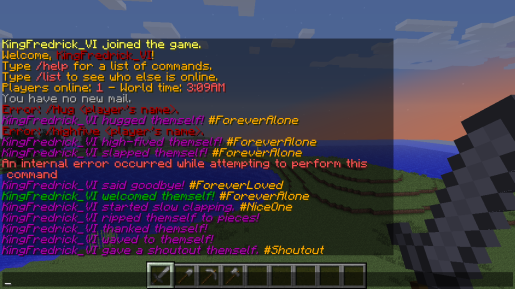 1.3
You can now control what is said after the first sentence in a config file! The default is #(then something). You can keep them hashtags or mix it up.
Commands
/hug <player>

<sender> has hugged <player>

/highfive <player>

<sender> has high-fived<player>

/slap <player>

<sender> has slapped <player>

/gb <player>

<sender> said goodbye to <player>

/wel<player>

<sender> welcomed <player>

/slowclap <player>

<sender> started slow clapping for <player>

/thank <player>

<sender> has thanked <player>

/rip<player>

<sender> has ripped <player> into pieces!

/wave<player>

<sender> waved to <player>

/shoutout<player>

<sender> gave a shoutout to <player>

/hate<player>
/love<player>
/emotions
/emotions reload
Permission Nodes
Note: to give permission for all emotions, use: emotions.*
emotions.hug
emotions.highfive
emotions.slap
emotions.goodbye
emotions.welcome
emotions.slowclap
emotions.thank
emotions.rip
emotions.wave
emotions.shoutout
emotions.hate
emotions.love
emotions.reload
Chat Emotions Plugin 1.6.4 Download Links
http://www.dl2.9minecraft.net/index.php?act=dl&id=1382543419

http://www.dl5.9minecraft.net/index.php?act=dl&id=1382568818
Credit to: KingFredrickVI