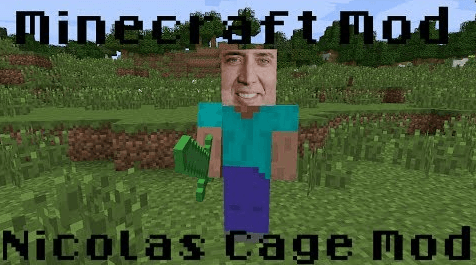 Cagecraft Mod has function of adding a Njcolas Cage mob into Minecraft. Actually, these mobs spawn naturally, even though are VERY rare.
Additionally, this mod also implements a new ore and gem called Nicolite. These things are extremely convenient because you can use them to make a set of tools and armor in the future. Don't hesitate to install the mod to add enjoyment to your Minecraft experience.
Video:
INSTALLATION :
As you would with any forge mod, drag the ?.jar? file into your mods folder, then select your ?Forge? profile in the launcher and you mod should be downloaded!
MODPACKS : If you want to use this mod for a modpack i would appreciate if you left a link to this forum post in the modpack's site/post, this is only if you are making the pack public, if it is a private modpack you don't need to give credit.
MOD REVIEWS : Make sure to credit me in the description and leave a link to this forum post, and also if you made a mod review make sure to tell me so i can watch it!
For 1.7.2
http://dl.niceminecraft.net/download.php?file=cbaa683dfdc8489f50ef197972458141
Author: NiallTheAwesome