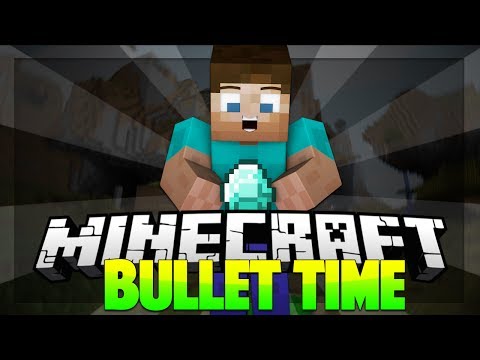 Bullet Time Mod has been built to enable players to change Minecraft game mechanics. Through this mod, you are able to control the speed your game runs at. Increasing or decreasing the speed, it's up to you.
In order to increase or decrease your game speed, let's tap the G Key [Default] to open up menu and make change.
Please note that once you change the game speed, it means that EVERYTHING in your Minecraft World [Players, Mobs, Rain, Clouds, Time, Key Strokes, Projectiles, Health Regeneration, etc] changes as well. This mod is compatible with single player only.
Keybindings
G ? Default key to open the Time Panel GUI
Pictures
Due to the real life physics of still pictures, I can't show you an occurrence of time changing in action
Known Bugs
G.U.I buggy with different screen sizes
Mouse goes out of Minecraft after setting
Planned Changes
Video:

Install Minecraft Forge (version 10.12.1.1060) or higher
Download Bullet Time
Select the Forge Profile from the Minecraft launcher
Run Minecraft onceGo to %APPDATA%/.minecraft/modsPlace the Bullet Time .jar file into the mods folder
Restart Minecraft
Download Bullet Time Mod 1.7.2
For 1.7.2
http://dl.niceminecraft.net/download.php?file=94e95c26b120dd84f8f0d0b3764b4309
Author: ExpertDash