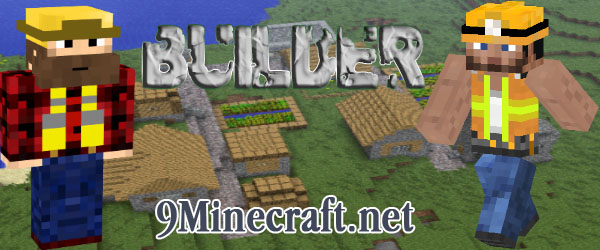 What is Builder Mod?
This mod is not like any other instant structure mod. With this mod you can create 31 different structures using only 3 blocks. This is possible because of the item in hand on the activation of the block. There are, as I said 3 different blocks for 3 very different types of structure sets. The first set is for some Unique homes. Two of these homes are a very large tree house and the other is a very large snow man. The next block is for basic village structures, this will allow you to create villages in a way that you see fit. The last block is for making your own Japanese Village. This structure set however is not quite finished and has some structures that have extra ground layers, dirt and stone etc?
Mod Content:
Unique Homes
Standard Village
Japan
Medieval Structure Set
Other Recipes:
Mod Videos:
How to install Builder Mod for Minecraft:

Download and install Minecraft Forge installer
Download Builder Mod
Put Builder Mod zip file into your /.minecraft/mods folder. Do not unzip it.
Done
Changelogs:
v0.6.0
Added the new generation tool by coolAlias. Added new structures from some awesome builders from this forum, should all give them a big hand for this (credits are above). Currently in this build the tree house and snowman and oriental castle and a few others sis not get converted yet and are not yet available.
Builder Mod Download Links:
For 1.6.4
http://www.mediafire.com/download/2u909e6fw7qe9bb/builder_0.6.5_1.6.4.zip

http://www.files.9minecraft.net/index.php?act=dl&id=1383806343
For 1.6.2
http://www.mediafire.com/download/dj4hjh2v7n2jh1v/builder_0.5.0_1.6.2.zip

http://www.files.9minecraft.net/index.php?act=dl&id=1379418131
For 1.5.2
http://www.mediafire.com/download/bdkvkub6sv208af/builder_0.3.0_1.5.2.zip

Credits: microjunk