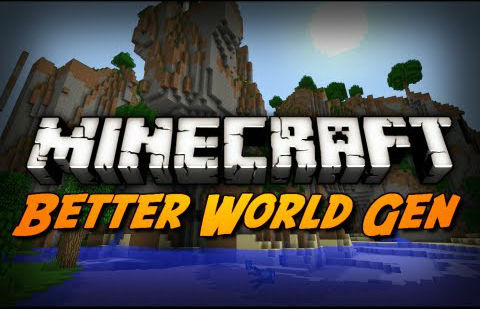 Better World Generation 4 is a Minecraft mod that allows players to have new worlds to be generated such as map survivals, aerial maps; but also maps resembling the old versions such as the beta or the alpha. There are also many other things like new biomes or bigger rivers.
Better World Generation 4 Mod 1.11.2 Features:
Improved customizable default generator
New biomes
Old world generation (beta, alpha, infdev and indev)
Farlands without lag
Infinite indev worlds
Better dungeon loot and cage dungeons
A realistic worldtype (gold worldtype)
Survival island and skyland
Skyblock survival
Sky dimension (with nether skylands)
Bigger rivers
Screenshots:
Better Default:
More images:
Mod Showcase:
Seeds list:
How to install:
1. Backup your worlds!
2. Install the recommended version of Minecraft Forge.
3. Place the zip file into your .minecraft/mod folder.
4. Start Minecraft and create a new world.
5. Select the bwg4 worldtype.
6. Click on the customize button.
7. Select a generatortype you like.
8. Click on done.
9. Click on create new world.
Better World Generation 4 Mod Download Links:
Older versions:
For 1.5.2
Client: http://www.dl.9minecraft.net/index.php?act=dl&id=1367617734

Forge: http://www.dl.9minecraft.net/index.php?act=dl&id=1367617799

Server: http://www.dl.9minecraft.net/index.php?act=dl&id=1367617825
For 1.6.2
http://www.dl3.9minecraft.net/index.php?act=dl&id=1373360455

http://www.dl4.9minecraft.net/index.php?act=dl&id=1373360186

http://www.dl5.9minecraft.net/index.php?act=dl&id=1373385911
For 1.6.4
http://www.dl4.9minecraft.net/index.php?act=dl&id=1380626438

http://www.dl5.9minecraft.net/index.php?act=dl&id=1380652386
For 1.7.2
http://www.dl4.9minecraft.net/index.php?act=dl&id=1399128636

http://www.dl3.9minecraft.net/index.php?act=dl&id=1399155855
For 1.7.10
http://www.dl4.9minecraft.net/index.php?act=dl&id=1405411628

http://www.dl6.9minecraft.net/index.php?act=dl&id=1405412623
For Minecraft 1.11.2
(Coming soon)
Credits: ted80