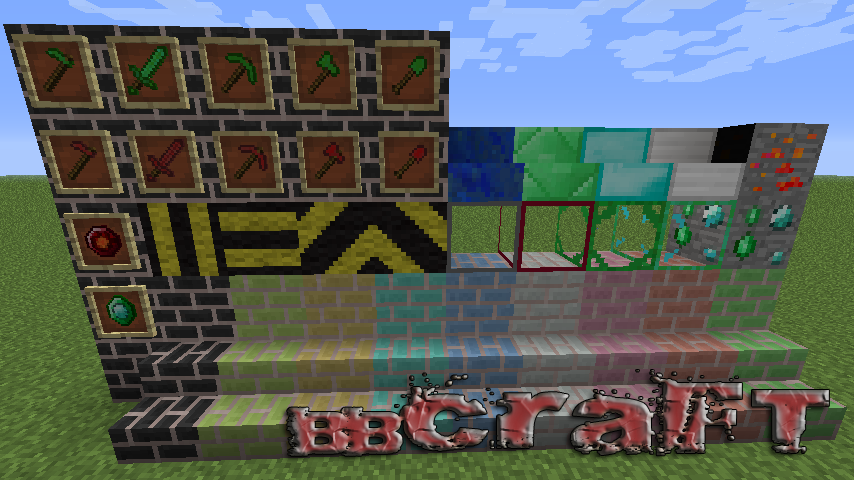 bbCraft Mod is one of the most interesting mod that aims to implement a lot of items and blocks into Minecraft such as colored bricks, colored brick stairs, crystal ore or iron stairs. There are also many recipes showed below for you.
List of items and blocks
Colored bricks
Colored brick stairs
Crystal ore
Ruby ore
Iron stairs
Diamond stairs
Gold stairs
Emerald stairs
Lapis lazuli stairs
Ruby
Crystal
Crystal pickaxe
Crystal axe
Crystal shovel
Crystal sword
Crystal hoe
Ruby pickaxe
Ruby axe
Ruby shovel
Ruby sword
Ruby hoe
Crystal Glass (2)
Ruby Glass
Iron Glass
Keep Clear blocks (4)
Lava lamp
Blackstone lamp
Blackstone
Blackstone brick
Blackstone brick stair NEW
Blackstone brick slab NEW
Colored bricks slabs NEW
Recipes
Tools
Stairs & Slabs
Blocks
Install bbCraft Mod 1.6.4
Download Minecraft forge
Download bbCraft
Install Minecraft 1.6.4 forge
Drag bbCraft.zip file to mods folder
Have fun!
Download bbCraft Mod 1.6.4
For 1.6.4
http://dl.mod-minecraft.net/download.php?file=c30c3ae66871345177715fe5580058a5
Author: estplayer